By Ben Trollinger
Acres U.S.A. editor, Tractor Time podcast host
On Thursday, August 26, Acres U.S.A. closed out the 3rd annual Healthy Soil Summit with presentations covering nutrient density in our food (Dan Kittredge), the economics of soil health (Kyle Bingham and Kelsey Ducheneaux Scott) and how to face the enormity of our environmental challenges without losing all hope (Mimi Casteel). The event also featured video tours of Alderspring Ranch, a regenerative grass-fed beef operation in Idaho, and Fillmore Farms, an organic walnut orchard in California.
How Dense Can You Be?
To start the day, Dan Kittredge, the founder and executive director of the Bionutrient Food Association and a long-time organic farmer, talked about his non-profit's mission to increase the nutritional value of our food supply.
The discussion — an exploration of the linkages between soil health, plant health and human health — focused on technology that would empower consumers to determine the nutrient density of food at the point of purchase. The device, part of the non-profit's Real Food Campaign, is a hand-held spectrometer called the Bionutrient Meter. The long-term goal for the gadget is to create economic incentives within our marketplace for nutritional quality and, by extension, better health.
"As we humans eat food with more nutrition in it, then the chronic degenerative diseases that are relatively epidemic at this point can be functionally reversed," he said.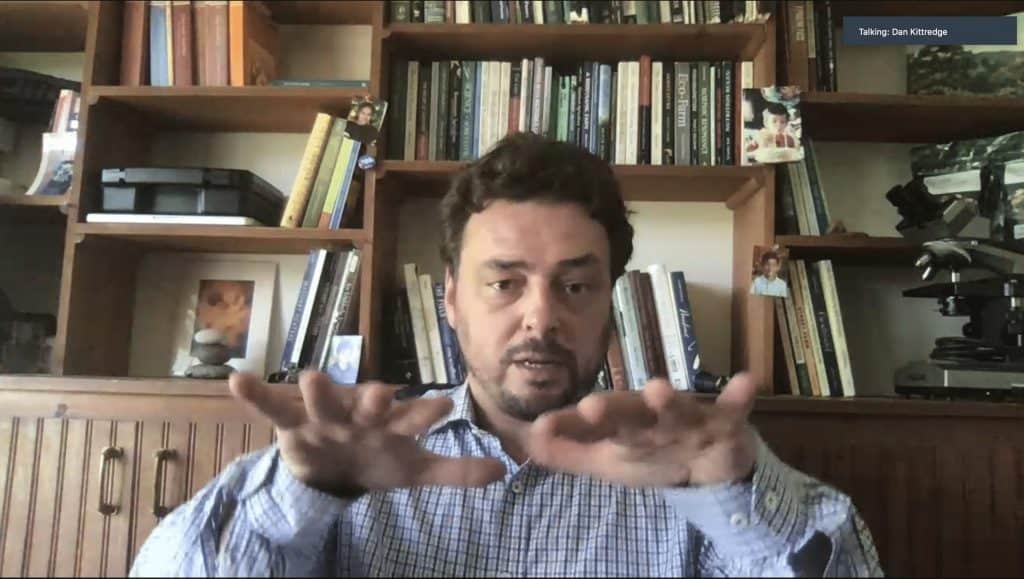 The driving idea of the talk was that not all carrots are created equal. Some are teaming with vitamins, polyphenols, terpenes and high Brix values – the things that make food nourishing and tasty — and some are grown in near-sterile soil, shipped long distances and are devoid of flavor and nutrition. Healthy, nutritious and toothsome produce can only come from vital soils. Economically, measuring the quality of the end product could influence the methods and soils that produced it.
"If we can help people chose the food for themselves and their families based on its nutritional value," he said, "then that will have a feedback loop to the entire supply chain to focus on nutrition as opposed to volume and aesthetic, which seem to be the metrics currently."
So what makes for nutrient dense food? It's all about microbes.
"It's not our job to feed the plants, it's the microbes' job to feed the plants," Kittredge said. "It's our job to make sure the microbes have the environment they need to function well."
Does Soil Health Pay?
Next, a two-person farmer's panel explored the challenges that small farms face in maintaining healthy soil as well as a healthy home economy.
Kyle Bingham, a fourth generation farmer operating outside of Lubbock, Texas, works around 2,000, certified-organic acres of hemp, cotton, peanuts and a variety of legumes (Bingham Family Vineyards also includes one of the largest privately owned vineyards in the state.) Bingham said that while his family has valued organic, soil-focused agriculture for decades, they also have a steely-eyed attitude when it comes to business. "If we're not going to get paid for it, we're not going to grow it."
Kelsey Ducheneaux Scott, the director of programs for the Intertribal Agriculture Council, is the owner of DX Beef, a direct-to-consumer regenerative beef operation on the Cheyenne River Sioux Indian Reservation, where she also ranches with her husband and family.
She's a commercial rancher, yes, but she said she is above all a land steward of the Great Plains. She uses rotational grazing with her grassfed herd as a tool to renew the soil, protect the watershed and help feed her community with nutritious food.
Time is Running Out
Delivering the featured presentation of the day, Mimi Casteel, a regenerative winemaker in the Eola-Amity Hills region of Oregon, spoke uncomfortable truths to the audience to close out the 2021 Healthy Soil Summit.

We can't continue to create jewel-box regenerative, organic farms that primarily serve the wealthy and call it sustainable, she argued — climate change won't allow for that kind of inequitable food system.
"A resilient standalone farm will burn," she said over photos of the wildfires that ripped through her state. "We have accepted too easily that getting worse too slowly is the best our children can hope for … If we accept the current model and a lesser future for our children, then we commit them to poverty and war."
However, Casteel said now is not the time for despair or nihilism. "You must not lose hope. We have not tried everything," she said. "A better world is possible and it's up to us."
Casteel grew up on her parents' Salem, Oregon, winery, Bethel Heights Vineyard. In a circuitous and nonlinear way, Casteel eventually followed in their footsteps and became a wine maker. But she didn't take the most obvious path. Instead, Casteel bought a degraded piece of land — an old Christmas tree farm, in fact — and set about creating what would become Hope Well Vineyard. Today, her beyond-organic farm is singular within the American wine world. It's a dynamic and bio-diverse ecosystem that incorporates livestock, welcomes in wild animals, foregoes industrial inputs and produces prized pinot noirs.
Watch the Replay
If you missed the 2021 Healthy Soil Summit, don't worry! You can now purchase the official event replay at our Eco-Ag U Online learning platform. Check it out here!
In Case You Missed It – Read the Day 1 recap here.
Coming Up Next
We've concluded the Healthy Soil Summit – but that doesn't conclude our learning for the year! Those eager to continue their eco-agriculture education still have lots of options with Acres U.S.A. throughout 2021. Here are 3 more ways you can keep learning this year:
Expand your library! The Eco-Farming Book Sale is still going on – but only through next Tuesday, Aug. 31. Get up to 80% off of eco-farming books on topics ranging from alfalfa to zinc. Browse the sale now!
Attend the 2021 Eco-Ag Conference & Trade Show this December! Our annual conference will be held in-person this Dec. 6-9, in Cincinnati, Ohio. We'll be gathering growers and farmers from around the world to learn from expert speakers like Fred Provenza, Nicole Masters, John Kempf, Reginaldo Haslett-Marroquin, and more! Learn more here.
Learn year round with our online courses at Eco-Ag U Online! Watch replays from past events, or take in-depth classes created especially for this platform. All classes are designed by expert agronomists and professional farmers, and curated by the educational experts at Acres U.S.A. Check them out here!