On Feb. 1, the Regen Rev virtual event kicked off, featuring a star-studded lineup of experts in regenerative agriculture. The topics in discussion covered by the two-day event include soil health management, the "how and why" of regenerative agriculture, nutrient density of food, specific tactics for planting, nutrient testing, and more.
Starting with soil health
Agroecologist, author and educator Nicole Masters opened the event with her presentation Why Regenerative? "I'd like to put forward a case as to why we need to regenerate now more than ever," she said.
Masters stated stark facts about the poor state overall of soil quality in the United States and the world, with ongoing large losses of topsoil, which she aptly described as "death by a thousand cuts."
"That has significant consequences for our bottom lines on so many levels," she said.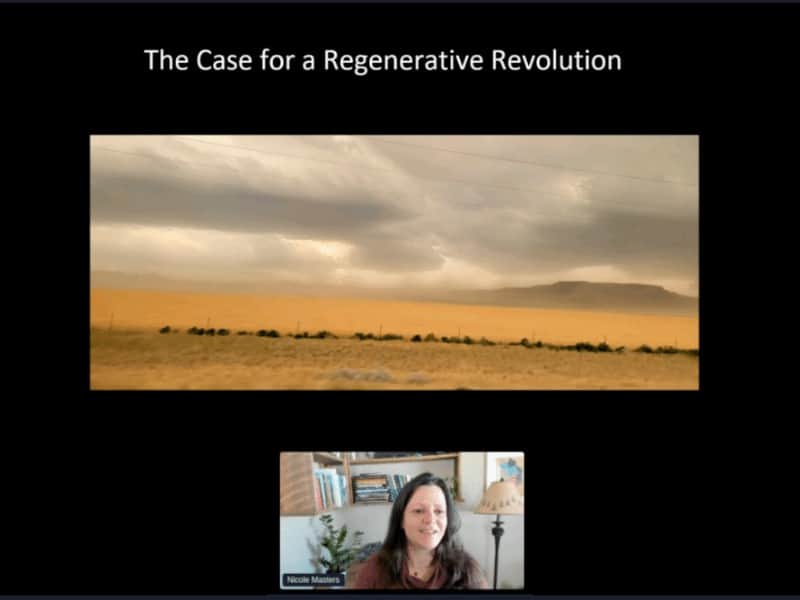 Masters further discussed soil health management, and the biology behind what makes soil healthy and resilient, paired with impactful photos of side-by-side properties run with regenerative and non-regenerative management.
"The time to regenerate is now," she said.
The role of investment capital
Day 1 of the event also featured a presentation on the investment side of regenerative agriculture by Sarah Day Levesque, a leader in regenerative agriculture investment with decades of experience.
"Investment capital has a significant role to play in shaping a new, healthier food system," said Day Levesque, Managing Director at RFSI and GM of Events & Media at Acres U.S.A.
Diving into the topic, Day Levesque addressed the different shifts needed in adopting regenerative agriculture, from mindset to practices, as well as the common misconception that regenerative agriculture leads to lower yields and profits.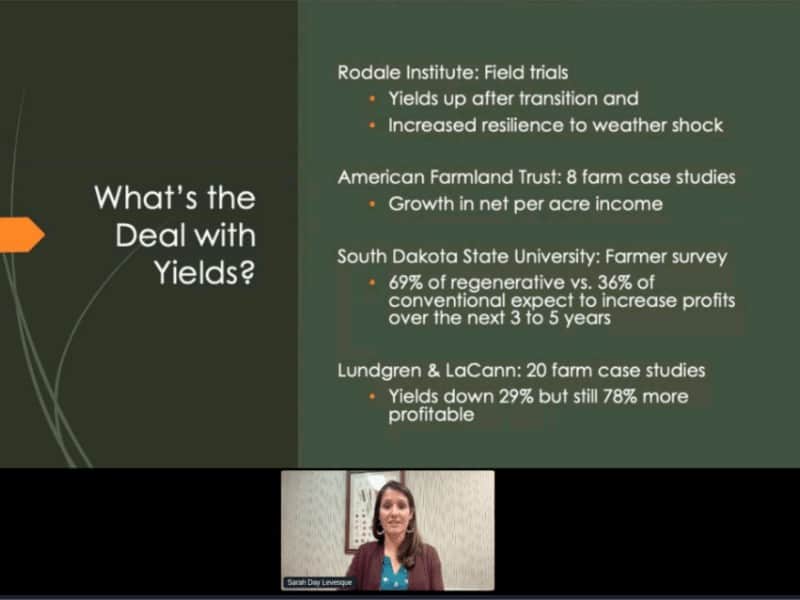 "The prospect of positive financial returns is imperative to incentivize what can be risky wholesale change," she said, underlining the importance of developing new strategies to lessen the risks associated with transitioning to regenerative.
Common barriers to adopting regenerative agriculture practices include:
Behavior and cultural change
Technical assistance
Regenerative supply chains
Financial capital and incentives
While these barriers exist, Day Levesque pointed out that farmers, growers and ranchers who adopt these changes will, after break-even, be in a better position to make higher profits than those that haven't transitioned to regenerative agriculture. But the challenges remain.
"The question now is – where do the solutions lie?" she asked.
Day Levesque also pointed out the picture of the current flow of capital into agriculture, of which regenerative ag has only a small percentage of the total pie. One key aspect currently lacking in investment these days, she said, is the "missing middle" – areas of storage and processing, distribution and value-added.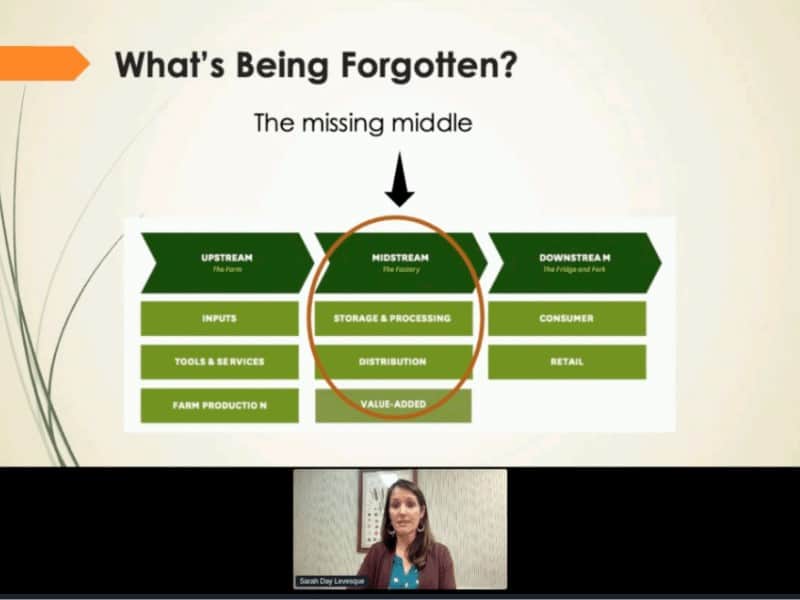 In the end, Day Levesque tapped education – of farmers, food companies, and investors – as well as strategic innovation as key components to solutions going forward.
The discussion continues
Also featured on Day 1 of the event were Dennis Warnecke and Steve Becker of Tainio Bio on The Role of Soil Biology in Regenerative Agriculture, as well as Dan Kittredge of the BioNutrient Food Association on Nutrient Density, and Steven Bierlink of Monument Apples in Washington state on Realistic Steps to Boost Fruit Quality.
Day 2 includes presentations on planting tips and nutrient testing, cover crops, and John Kempf on Critical Points of Influence. Join the free event here!