This month, our theme is farm management and business. You will see this theme reflected in Acres U.S.A. magazine, in our weekly email newsletters, and in our February Book of the Month feature: Farming Without Losing Your Hat by Paul Dorrance.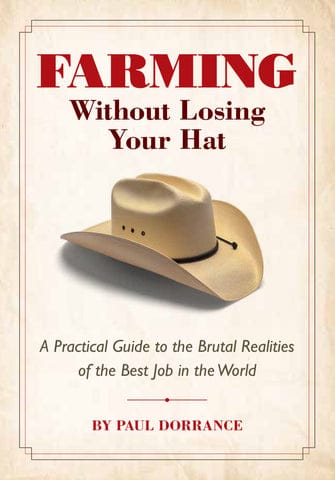 Original Price: $39.99
Book of the Month Price: $32.00 — Buy it now!
"As I got started in farming, there was a distinct lack of trustworthy, reliable, replicable information to guide me. … I resolved to do something about that." — Paul Dorrance, author of Farming Without Losing Your Hat

"So read this book. Use it to build your own, original idea for what you can do. … And don't buy into any silver bullet that tells you how to farm. That's the entire adventure you're about to embark on with Paul Dorrance on the pages ahead — you, and only you, can figure that out." — Will Harris, founder of White Oak Pastures
Farming Without Losing Your Hat isn't like most agricultural how-to books. It isn't particularly romantic or soul stirring. These pages do not include long digressions on soil health or animal behavior. Instead, this book just might be the most honest book about starting a farm ever published. The writing, simple but filled with detailed information, takes a practical-only approach, focusing on the less-glamorous but essential parts of farming and ranching successfully today. Author Paul Dorrance shares from his own real-world experiences and reminds us again and again —farming is not just a calling, it's also a tough business.
Specifically, you will learn how to:
build a unique brand and company voice;
grow a loyal audience to sell to;
navigate the maze of regulations;
walk through liabilities and tax implications;
engage with customers on a real level;
apply for loans and financing;
and design a business plan from A-Z.
We also invite you to help write this book and have created space in each chapter for you to write down and capture your starting vision and goals. By the time you finish the final page, this book will have transcended into an heirloom book capturing where you were when you first dreamed of the farm and how you planned to make it a reality. Keep it forever in your farm's library, and pass it along in your family for generations to come.
Want exclusive access to the best deals on books each month? Get the Book of the Week email newsletter delivered directly to your inbox!