By Sarah Day Levesque
GM of Events and Media
The last and only other time that I've been to Wisconsin was in February of 2019 for the Moses Conference. A colleague and I spent two nights there and on the second night, our flight home got cancelled because of a blizzard covering the entire region. The next flight we could get out on was four days away, so we chose to brave the blizzard via rental car. We navigated whiteout conditions with only one fatality – a squirrel that seemed to have lost its way on the freeway and whom, to this day, we continue to pay our respects for his sacrifice. We survived, of course, but that ordeal did not leave a good taste in my mouth for Wisconsin.
But in July, my return to Wisconsin yielded a much better experience. This time another colleague and I were bound for what they call "the driftless region" – named as such for the absence of "glacial drift", the sandy and gravelly deposits under glacier, and characterized by lush, rolling hills decorated with stripes of corn and rye and sprinkled with red barns, grain mills, and dairy cows.
Representing the events team for Acres U.S.A., we came to produce our first on-farm intensive with world-renowned biological farmer Gary Zimmer on his Otter Creek Organic Farm near Lone Rock. His farm – nestled in the hills around famed architect Frank Loyd Wright's farm, Taliesen – is devoted to corn and cover crops. Until recently, it also incorporated forage and dairy cows, and in the past two years Gary and team have added two perennial crops to support economic and crop diversity.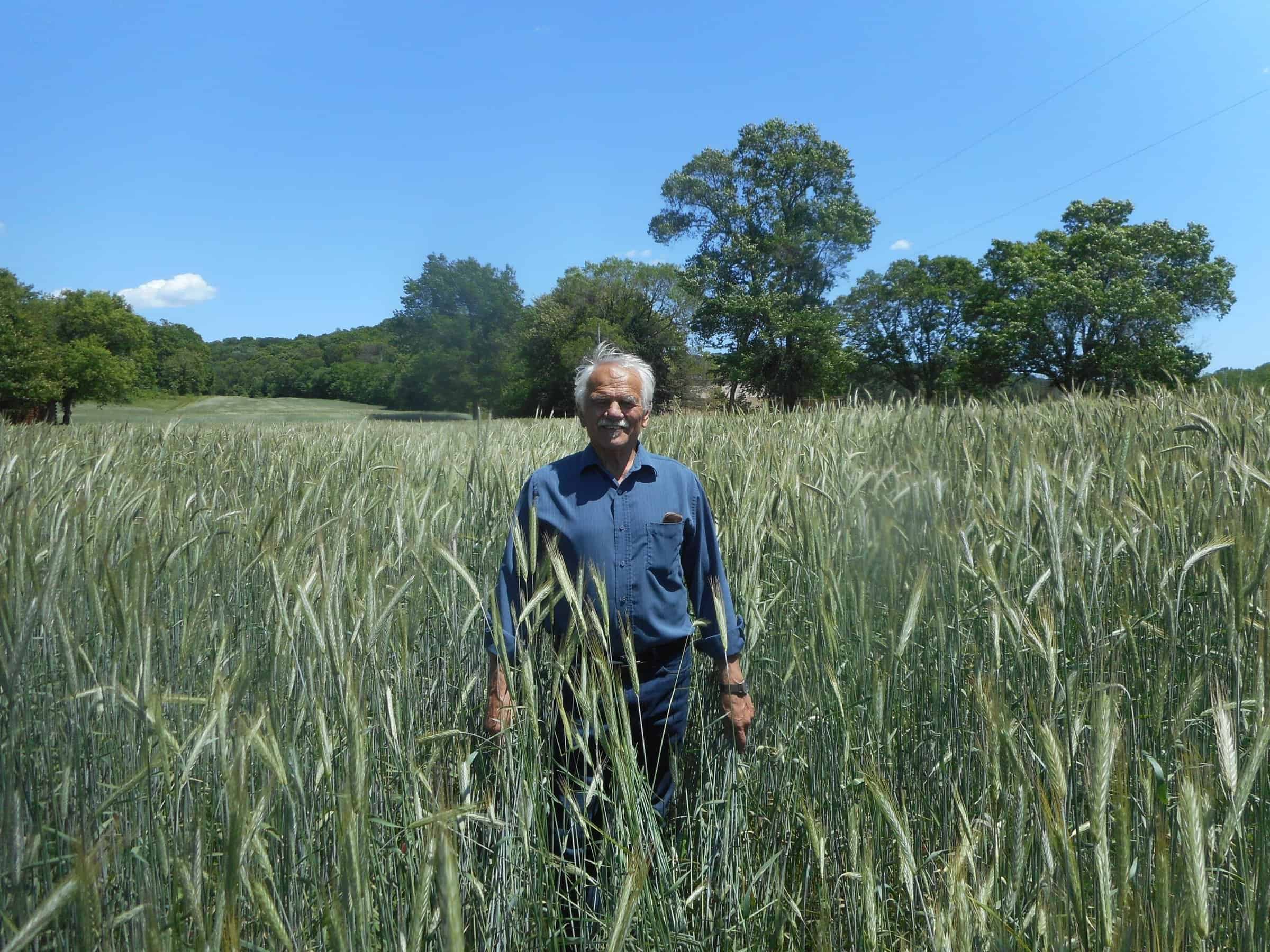 It was here that together with Gary and his daughter, Leilani Zimmer-Durand, we brought together a group of about 30 farmers from across the country – Pennsylvania to California – to learn about soil health strategies for commercial farmers of any scale. We had dairy, corn, and wine grape growers, new farmers, experienced farmers, and even a university professor on hand for what proved to be an enthusiastic and engaged group of participants. We also had several guest instructors joining us to balance out the programming – including Leilani, Karl Dallefeld of Prairie Creek Seeds, Lawrence Mayhew of the Humic Products Trade Association, and Keefe Keeley of the nearby Savannah Institute. Together this team created a well-rounded program that centered around Gary's Principles of Biological Farming, which include:
Test your soils, use results for guidance
Use high quality fertilizers
Minimize chemicals and nitrogen
Maximize plant diversity
Use appropriate tillage
Feed the soil life
Key Takeaways from the 2021 On-Farm Intensive
Here are some key themes that we dug into over the two days of programming that included both presentations under a tent and field learning out on several of Gary's properties:
The basics: How to build soil biology?
Soil's are able to provide minerals for plants if the minerals are there and the biology is taken care of. Here are some of the considerations when nurturing soil life:
Plants determine soil life – living roots help feed soil biology.
Soil life comes from feeding plants food at different maturities. Gary explained green, brown, and black sources of carbon, which each can feed soil life at different stages.
Soil biology depends on digestibility – just like cows can digest mature crops, soil biology also has its limitations in what and when it can digest nutrients.
Skepticism about soil tests
Gary uses soil tests… but only to the extent that he can use them to inform actions on his farm and not for things he can 'measure' simply through seeing and smelling his soil. Here's what soil test does not tell you:
If nutrients are available
Who is there to help feed the soil (the biology)
The physics of your soil
The argument for shallow incorporation
Despite the growing movement behind no-till farming and an effort to limit disturbance of soil, anyone who knows Gary knows he believes there is a role for shallow incorporation. As he says " Nutrients (residue) sitting on top of the ground is like having cows on the wrong side of the fence." The zone of maximum biological activity is where there is rapid residue decay, so you want to maximize or elongate this zone.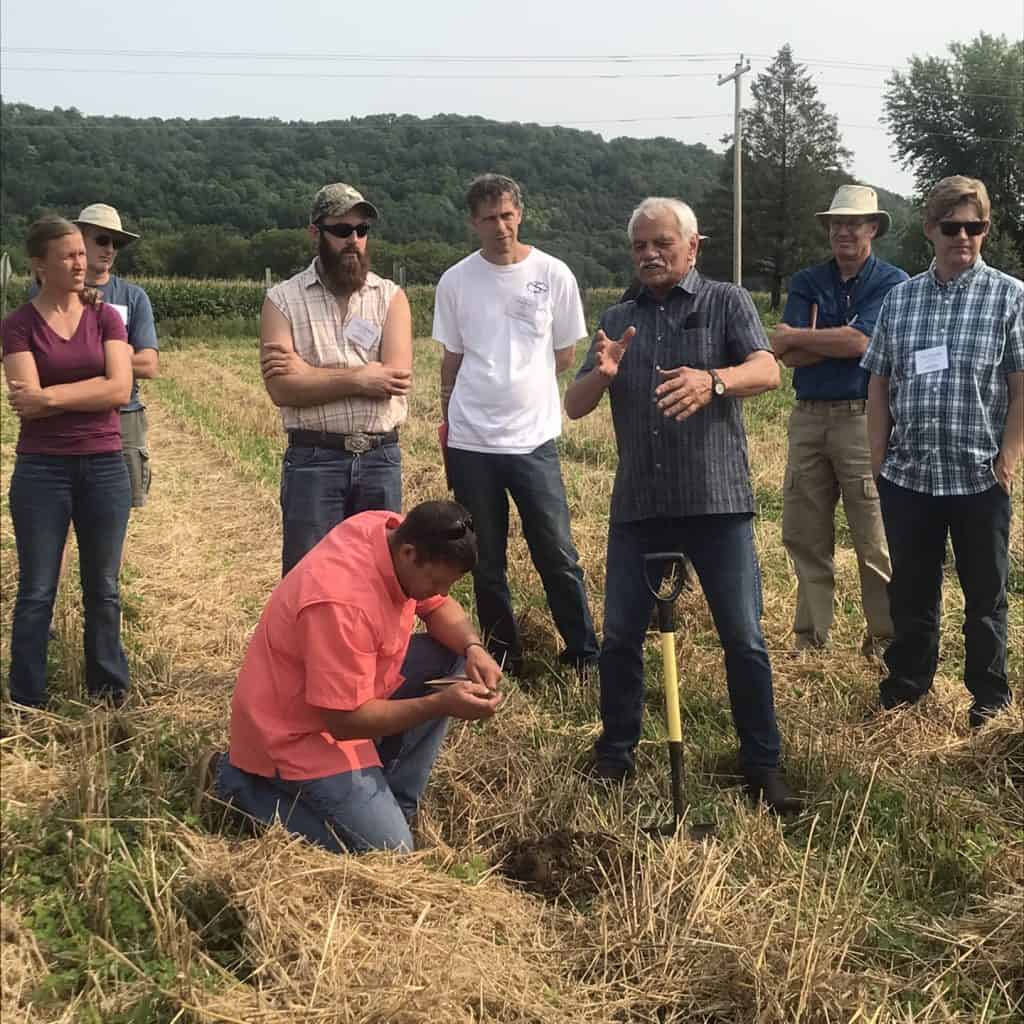 Benefits of Cover Crops
Cover cropping is a strategy Gary uses across his corn fields to feed his soil life. He's worked closely with Karl Dallefeld on both cover crop and forage seed selection. The benefits of cover crops include that they:
Conserve soil moisture
Improve tilth and water infiltration
Serve as an erosion control
Enhance nutrient recycling
Fix nitrogen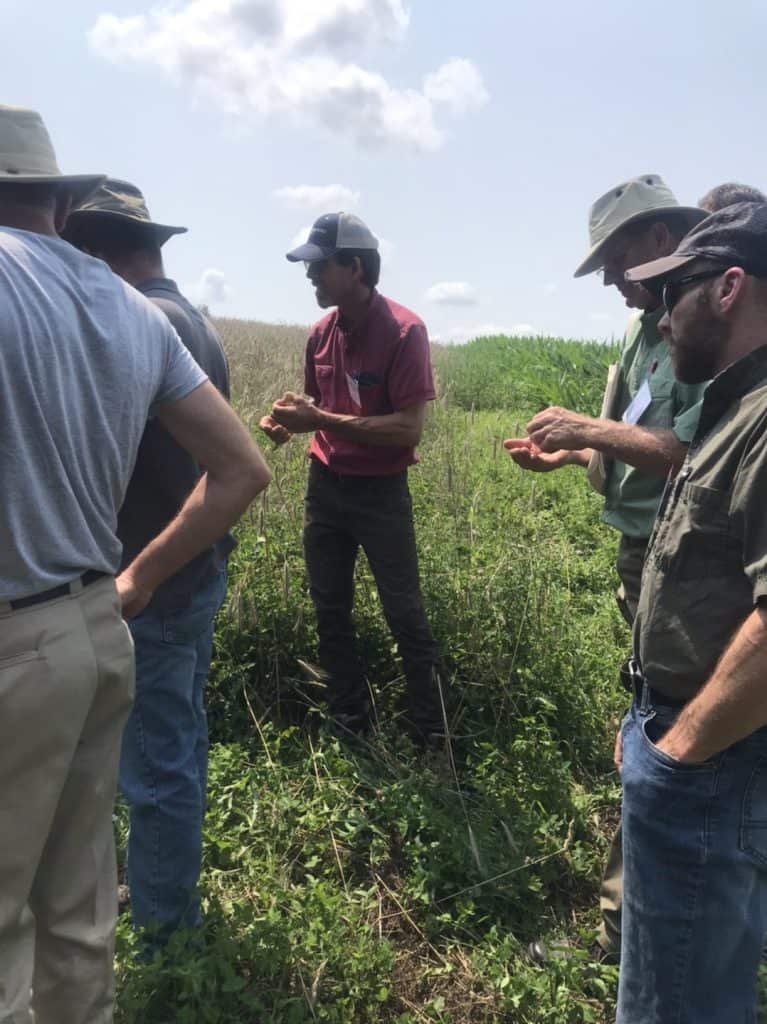 Calcium, Magnesium, Boron and Phosphorus
"Get these all high and you'll have the best crop you've ever had!" says Gary. Calcium serves several functions in the soil. It balances pH, promotes healthy organic matter, and promotes good soil structure but you can't get calcium without boron.
Find the best use of all your land – and put a plan behind it!
Keefe Keeley from the Savannah Institute joined on the first afternoon to share the value of integration permanent crops into a farming operation and to explain the importance of planning for it. On Zimmer's farm, there were two small areas of land that were not ideal for operating equipment for the corn operation. So, they took these out of corn and planted blueberries in one and elderberries in the other. Both are high-value perennial crops that offer the operation some economic and crop diversity. Keefe's advice on what to grow included:
Grow what will grow where you are.
Grow what will sell. You must have a market for the crop.
Grow what you love.
Don't grow alone – find your peers who are growing and use them as a resource.
He also emphasized that planning is even more critical with perennial crops because, unlike with annual crops, you only hope to plant them once.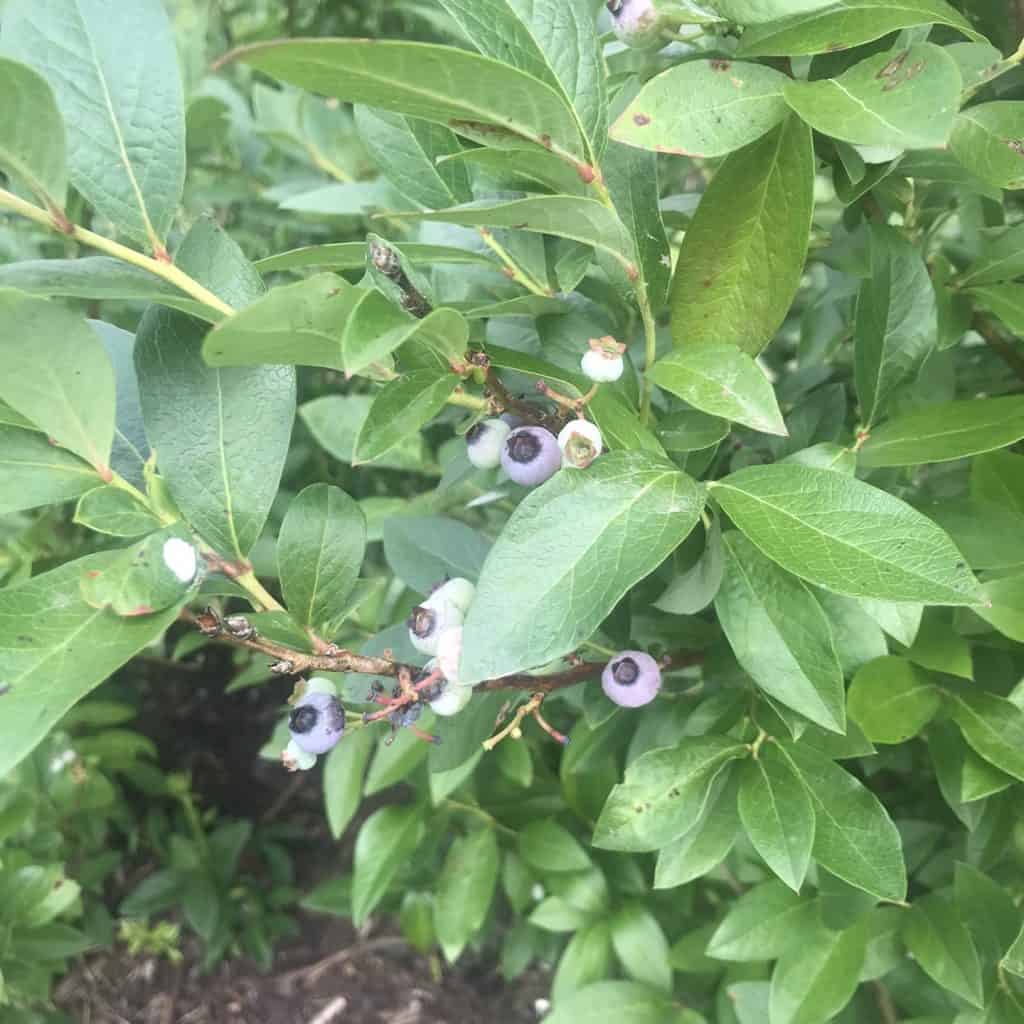 With these foundational teachings and lots of anecdotal and hands-on lessons to support them, attendees left equipped to take their operations to the next level of soil health – not to mention with bellies full of lots of amazing locally raised and prepared foods. I left with all of this… and a much better appreciation for Wisconsin.
See more photos!
View photos from the event and Gary Zimmer's beautiful Otter Creek Organic Farm, at the On-Farm Intensive website here.