Need a last-minute present with zero delivery time? Or are you looking for eco-ag-focused education you can access immediately and take with you anywhere? Either way – we've got you covered! Here are three different digital deals from Acres U.S.A. this December:
$1 Digital Downloads of Acres U.S.A.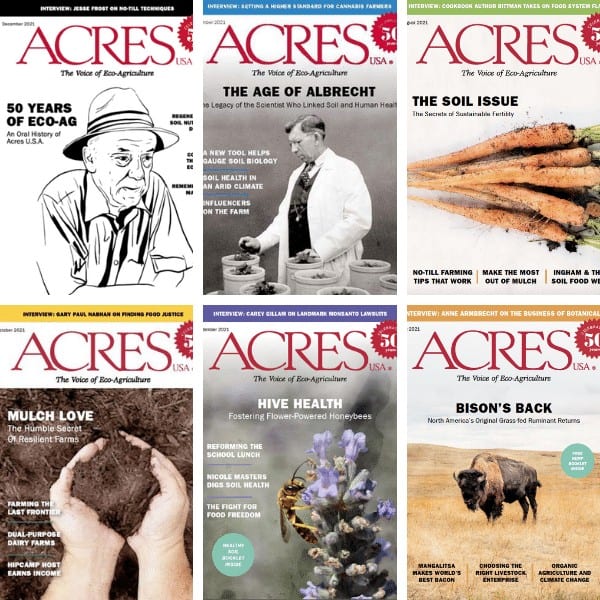 All Acres U.S.A. magazine PDFs are just $1.00 through Dec. 31! Get hundreds of pages of in-depth interviews, eco-ag practical how-to's and more downloaded directly to your computer, phone or digital device. Find all PDFs here.
The $1 download deal applies to collections too! Get an entire year's worth of digital magazines – normally $72.00 – for just $10 each!
Find all available Acres U.S.A. magazine digital downloads here.
Get $5 for Every $50 Gift Card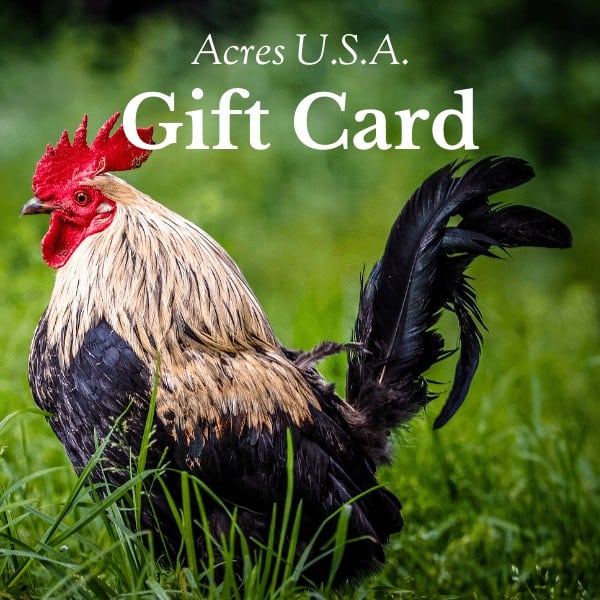 Get a little when you give with Acres U.S.A. bookstore gift cards this December. When you buy a $50 gift card, add an extra $5 gift card to your cart for an automatic free discount at checkout!
How to Redeem this Offer:
Go to the Gift Card product page and choose the $50 gift card option – then add it to your cart.
From the same Gift Card product page, choose the $5 gift card option – then add it to your cart.
When you to to check out, the discount will be automatically applied, and the $5 gift card will be marked as $0 for the total purchase.
Please note – gift cards are digital only. There is no physical component to the gift cards. You will receive instructions by email on how to redeem purchased gift cards.
Take Eco-Ag U Courses Online
Tap into the knowledge of eco-agriculture's top farmers, ranchers, scientists and consultants from your own home with Eco-Ag U Online. All classes are designed by expert agronomists and professional farmers.
Our newest addition to the Eco-Ag U curriculum is the 2021 Eco-Ag Conference Replay. Weren't able to meet us in Cincinnati this year? You can still benefit from the knowledge of the eco-ag experts we gathered, with over 40 hours' worth of video from conference sessions and keynotes. Learn more about the 2021 Eco-Ag Conference Replay here.
Other classes of interest available for online consumption include: