We have two important announcements regarding the 2021 Healthy Soil Summit this August.
First! Today – Wednesday, June 30 – is the last day for early bird pricing. That means you need to register for the Healthy Soil Summit by the end of the day today in order to save $25 off of your ticket price. Don't delay – sign up now!
Second – we are thrilled to announce that Mark Shepard will be part of the 2021 Healthy Soil Summit speaker lineup. He will present "Managing Soil for Water on Your Farm" on Aug. 25 at 9:15 a.m. Not only is Mark one of our top permaculture experts, he has spent more than 25 years refining on-farm water management techniques that help farmers of all scales increase drought resistance and crop productivity – while cutting costs. Don't miss your chance to learn from Mark's unique expertise!
Mark Shepard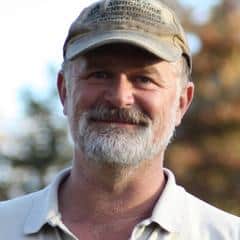 Mark Shepard is a Wisconsin-based permaculture designer, agroforester and ecological farming consultant. He and his family have transformed a typical 140-acre row-crop dairy farm into a permaculture-based perennial-agricultural ecosystem using oak savannah, successional brushland and Eastern woodlands as ecological models. The result is one of the first and finest farm-scale models of permaculture in the United States. He is the author of Restoration Agriculture and his new book for Acres U.S.A. on water management, Water for Any Farm, is now available.
Don't Miss the Early Bird Deadline
2021 Healthy Soil Summit
Aug. 25-26
Virtual Event – Join from Anywhere!
Register here.