This month, our theme is perennial crops. You will see this theme reflected in Acres U.S.A. magazine, in our weekly email newsletters, and in our May Book of the Month feature: Restoration Agriculture by Mark Shepard.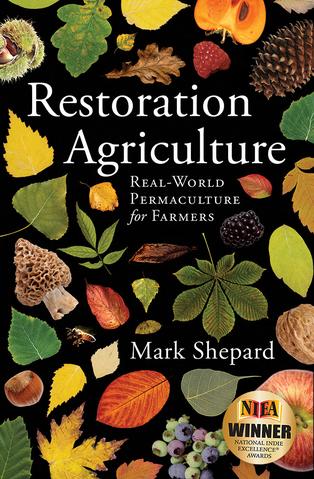 Original Price: $30.00
Book of the Month Price: $24.00 – Buy it now!
About the Book
Around the globe most people get their calories from "annual" agriculture — plants that grow fast for one season, produce lots of seeds, then die. Every single human society that has relied on annual crops for staple foods has collapsed. Restoration Agriculture explains how we can have all of the benefits of natural, perennial ecosystems and create agricultural systems that imitate nature in form and function while still providing for our food, building, fuel and many other needs — in your own backyard, farm or ranch. This book, based on real-world practices, presents an alternative to the agriculture system of eradication and offers exciting hope for our future.
Praise for Restoration Agriculture
"This book, written from real experience of working with the land and referencing real results of experience over time, will be invaluable and is destined to be a permaculture classic. This will be a reference book of great value for anyone interested in using permaculture design in a farming operation and valued by future generations."

Geoff Lawton, managing director, Permaculture Research Institute of Australia

"In Restoration Agriculture, Mark Shepard convincingly makes the case for notillage, perennial agriculture. He draws inspiration from J. Russell Smith, Bill Mollison, Masanobu Fukuoka, his father, his grandfather, his neighbors and others who showed him that trees are the key to productive and sustainable agricultural systems. Shepard shares his practical knowledge and hard-won wisdom gleaned from years of experience growing up on a farm in central Massachusetts and later transforming a barren overgrazed landscape in western Wisconsin into a richly productive polyculture. The discussions include rotational livestock management, beekeeping, soil and water management, plant breeding, turning a profit on a small farm, and many others. This book is well organized with lots of delightful and informative personal anecdotes."

Larry Korn, translator of The One Straw Revolution and Sowing Seeds in the Desert and student of Masanobu Fukuoka

"What a great story and a fun read … a wonderful history of man's intervention. It's not just the 'reasons' we need to change land management, it's the 'model' to follow … a call to action."

Gary Zimmer, president, Midwestern Bio-Ag

About the Author

Mark Shepard is a Wisconsin-based permaculture designer, agroforester and ecological farming consultant. He and his family have transformed a typical 140-acre row-crop dairy farm into a permaculture-based perennial-agricultural ecosystem using oak savannah, successional brushland and Eastern woodlands as ecological models. In all, they have planted 100,000 trees on this property. The result is one of the first and finest farm-scale models of permaculture in the United States. New Forest Farm features chestnut, hazelnut and fruit trees, a variety of other fruits and vegetables, chickens, ducks, pigs and other animals.

Sample video about Restoration Agriculture
Great Book Deals at Your Fingertips
Want exclusive access to the best deals on books each month? Get the Book of the Week email newsletter delivered directly to your inbox! Sign up today and get 20% off of your next Acres U.S.A. Bookstore purchase!