Introducing a new book from Acres U.S.A. publishing: A New Farm Language: How a Sharecropper's Son Discovered a World of Talking Plants, Smart Insects and Natural Solutions.
Written by new author Joe Lewis, this new book mixes in reflections on growing up poor and in the south with lessons learned researching how industrial agriculture has cut the communication lines between plants and insects, and how conversely, repairing those lines are at the heart of the future of agriculture.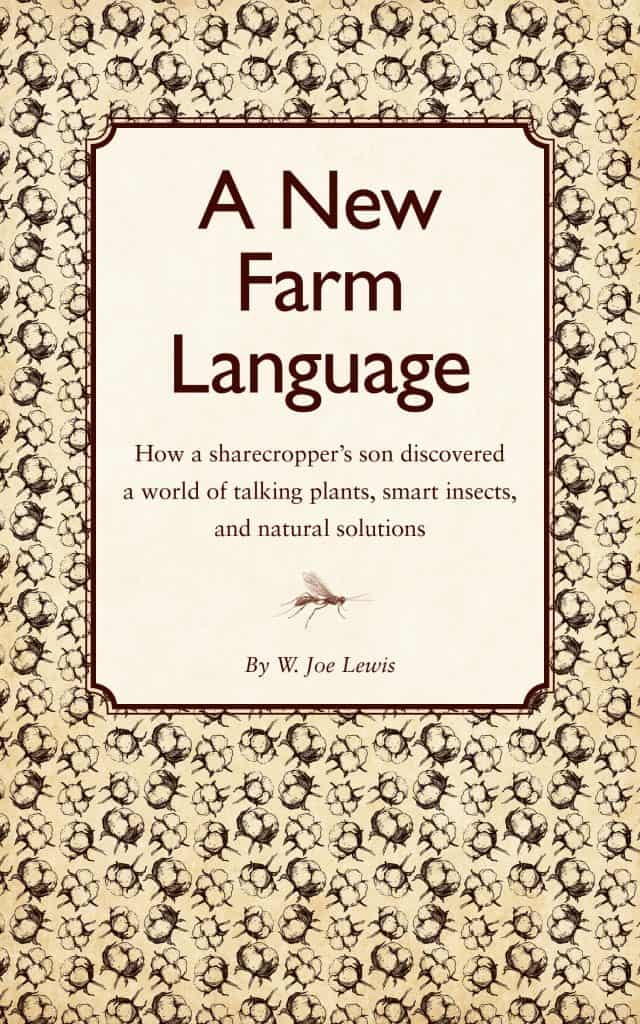 Free Book Launch Event
Register for a 30-minute virtual book launch to hear from author Joe Lewis and experts featured in the book like John Ikerd, Jim Tumlinson and Alton Walker. March 31, 2021.
---
Joe Lewis grew up poor on a Mississippi cotton farm without electricity or running water. And yet it was a rich life — one lived in close proximity to family and nature. Because of a childhood spent around mules, chickens and insects of every kind, Lewis developed a deep and abiding curiosity for the creatures of the natural world. That led him on a trajectory to become an award-winning entomologist with the USDA-ARS at the Tifton Campus, University of Georgia. During his 40-year career, Lewis discovered how plants use "SOS" signals to recruit beneficial insects to their defense. In 2008, he was awarded the coveted Wolf Prize in Agriculture for this groundbreaking work. In his new book, Lewis looks back on his charmed childhood and distinguished scientific career while tracing our industrialized country's increasing alienation from nature. Lewis believes we can reconnect with nature through learning to speak a new language of co-existence and cooperation — both in our agriculture and our everyday lives. This coming-of-age tale will inspire anyone interested in agriculture, talking plants and smart insects.
Lewis has been recognized worldwide for major crosscutting discoveries in the fundamental science of pest management. The models for his studies have been behavioral and chemical interactions of parasitoids, insect herbivores, and plants, along with ecosystem principles. The impact of his research is evidenced by over 200 refereed scientific publications and book chapters, including five papers in prestigious journals of Nature and Science, and three in Proceedings of the National Academy of Sciences, and an invitational paper in Scientific American. His work has been highlighted extensively in the popular press, including CNN Science and Technology, BBC/ Discovery Channel, Business Week, National Public Radio and BBC Wildlife, Fortune Magazine, and NBC Today Show.