It's a new month, which means a new issue of Acres U.S.A. magazine! Acres U.S.A. is one of the best kept secrets in farming, with educational articles and in-depth interviews that teach practical, applicable methods.
Our August 2022 issue focuses on the theme of healthy soils. It has already arrived in subscriber mailboxes, and is also available for individual purchase at our bookstore in both physical and digital formats.
Check out our August 2022 table of contents – and subscribe here to get Acres U.S.A. magazine delivered to you monthly!
This month's cover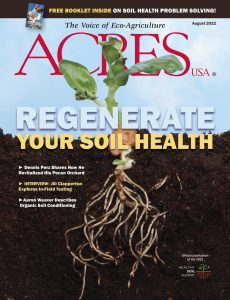 Features
Regenerating Soil with Betsy Ross
BY DENNIS PERZ
How we learned to grow pecans together.
Soil Conditioning for Vegetable Production
BY AARON WEAVER
How to recreate an old pasture field… without cattle or horses.
An Introduction to Humus Compost
BY EDWIN BLOSSER
Humus compost is a tool for profitable farming.
Microbially Friendly Farming
BY JUDITH FITZPATRICK
Controlling plants pathogens and increasing plants' ability to withstand stress.
Annual Bookstore Sale
Save big on books, DVDs and past issues for the month of August
DEPARTMENTS
VIEW FROM THE COUNTRY
Monthly musings from Acres U.S.A.'s editor.
OPINION: A New Eye on Plant Nutrition
BY JOHN KEMPF

ECO-UPDATE
News in brief on developments in agronomic science.
ORGANIC TRANSITIONING: Organic No-Till Financial Planning
BY JEFF MOYER
INTERVIEW: Jill Clapperton
Dr. Jill Clapperton discusses measuring nutrient density, soil health and agronomic research.
REVIEW
MARKETPLACE
CLASSIFIEDS
THIS MONTH
Healthy Soil Summit Aug. 2-3
Join Acres U.S.A. and a talented lineup of speakers in Sacramento, California, for the fourth annual Healthy Soil Summit. Learn more at https://soil.acresusa.com/
Acres U.S.A. Summer Intensive with Zimmer Ag Aug. 22-23
Learn on the farm in Wisconsin. Learn more at https://onfarm.acresusa.com/