It's a new month, which means a new issue of Acres U.S.A. magazine! Acres U.S.A. is one of the best kept secrets in farming, with educational articles and in-depth interviews that teach practical, applicable methods.
Our February 2023 issue focuses on the theme of farm management and business. It has already arrived in subscriber mailboxes, and is also available for individual purchase at our bookstore in both physical and digital formats.
Check out our February 2023 table of contents – and subscribe here to get Acres U.S.A. magazine delivered to you monthly!
This month's cover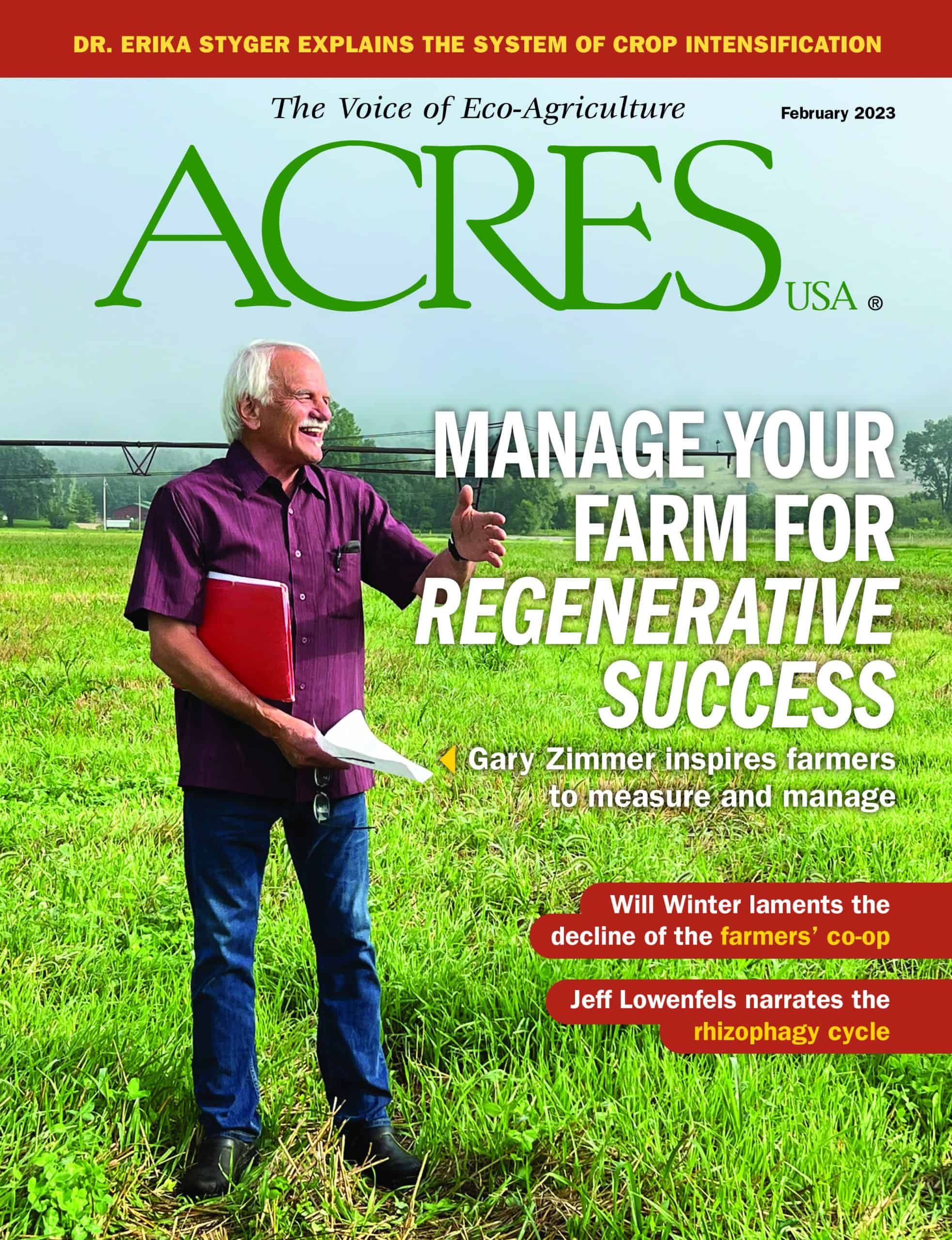 Features
Managing What You Can Measure
BY GARY ZIMMER
Change on a farm requires a different perspective on management..
What If Farmers Worked Togther?
BY WILL WINTER
The rise and fall of the farmers' cooperative movement.
Field to Smartphone
BY NINA GALLE
How Wolf Creek Farm serves their customers sustainably and successfully.
Rhizophagy- From the Bacteria and Plant Perspective
BY JEFF LOWENFELS
An excerpt from Jeff Lowenfels' Teaming with Bacteria.
Departments
VIEW FROM THE COUNTRY
Monthly musings from Acres U.S.A.'s editor.
OPINION: Be Not Silent about Gene Silencing- An update on pro-GMO efforts to influence the food supply.
BY ARDEN ANDERSON

ECO-UPDATE News in brief on developments in agronomic science.
REGEN AGRONOMY
Water's Invisible Workforce- Improving water quality and quantity through biology. BY DENVER BLACK
REGEN ECONOMICS
A Switch to Non-Linear Thinking- The true economic picture is difficult to completely measure. BY RYAN SLABAUGH
INTERVIEW
The Plant-ness of the Plant- Dr. Erika Styger describes the System of Rice/Crop Intensification, which utilizes simple principles to provide plants an ideal growing environment. 
REVIEWS
MARKETPLACE
CLASSIFIEDS
ECO-MEETINGS
ECO-GRAPHIC
Learn Monthly with Acres U.S.A.!
Subscribe to Acres U.S.A. magazine to get monthly articles, interviews and more delivered right to your door. Learn the latest in soil health management techniques, regenerative agriculture and farming both economically and ecologically. Subscribe today!