It's a new month, which means a new issue of Acres U.S.A. magazine! Acres U.S.A. is one of the best kept secrets in farming, with educational articles and in-depth interviews that teach practical, applicable methods.
Our June 2022 issue focuses on the theme of pasture (scroll to the bottom of this post to get a peek at the cover). It has already arrived in subscriber mailboxes, and is also available for individual purchase at our bookstore in both physical and digital formats.
Check out our June 2022 table of contents – and subscribe here to get Acres U.S.A. magazine delivered to you monthly!
This month's cover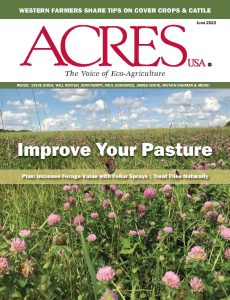 FEATURES
Fungal-to-Bacterial
BY STEVE DIVER
Understanding fungal-to-bacterial ratios to improve your fields.
Careful What You Spray
BY WILL WINTER
Conventional fly treatments can hurt soil health.
High-Quality Hay
AN SAM ZOOK
How to make high-quality hay by drying square bales in your barn.
Mobile Meat Processing
BY PAUL DORRANCE
Mobile processing may meet a key need of livestock producers.
Foliar Feeding Pasture
BY NATHAN HARMAN
Foliar feeding provides significant benefits to pastures.
More Roles for Microbes
BY DR. JAMES WHITE
Microbes affect root hair formation, seedling growth and even nitrogen fixation in plants.
DEPARTMENTS
VIEW FROM THE COUNTRY
Monthly musings from Acres U.S.A.'s editor.
Opinion: 6,000 Pounds of Beef/Acre
BY JOHN KEMPF
ECO-UPDATE
News in brief from around the world on developments in food and farming.
TRANSITIONING: Selling the Family Cow
BY RYAN SIWINSKI
INTERVIEW:
Three Colorado growers are integrating livestock and cover crops into their operations.
REVIEW
MARKETPLACE
CLASSIFIEDS
ECO-MEETINGS
We let you know when and where exciting eco-farming events are happening.
MEET AN ECO-FARMER
Get to know fellow innovative farmers putting ecologically correct production principles to work, resulting in profitable, sustainable operations.