It's a new month, which means a new issue of Acres U.S.A. magazine! Acres U.S.A. is one of the best kept secrets in farming, with educational articles and in-depth interviews that teach practical, applicable methods.
Our October 2022 issue focuses on the theme of Cover Crops. It has already arrived in subscriber mailboxes, and is also available for individual purchase at our bookstore in both physical and digital formats.
Check out our October 2022 table of contents – and subscribe here to get Acres U.S.A. magazine delivered to you monthly!
This month's cover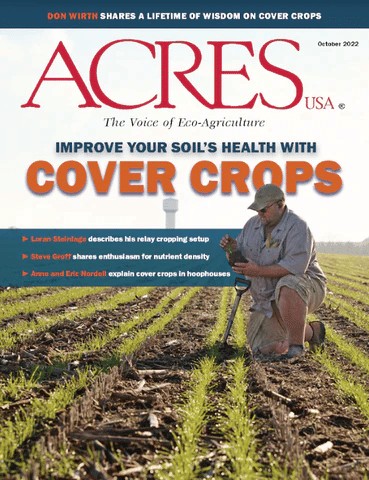 Features
Understanding Crop Relay
BY LORAN STEINLAGE
Cover cropping- but with revenue.
Cover Crops Under Cover
BY ANNIE AND ERIC NORDELL
Cover crops can help reduce nutrient excesses in hoophouses.
Covering Costs
BY JEFF SCHAHCZENSKI
The economics of cover crops.
To Cover or To Fallow?
INTERVIEW WITH JOHN HEERMANN
Why one farmer in dryland Eastern Colorado chose cover crops.
Don't Stray Away, Pt. 2
BY WILL WINTER
What farmers need to know about rural stray energy pollution.
The Importance of the Ditch 
BY ANDREW FRENCH 
A history of agricultural drainage. 
Departments
VIEW FROM THE COUNTRY
Monthly musings from Acres U.S.A.'s editor.
OPINION: Healthcare from the (Ph)arm- The goal of cover crops and other soil health practices is human nutrition.
BY STEVE GROFF

ECO-UPDATE
News in brief on developments in agronomic science.
ORGANIC TRANSITIONING: How bad is tillage, really?
BY LEA VEREECKE & NATHANEAL GONZALEZ SIEMENS
INTERVIEW: DON WIRTH
Don Wirth shares 50 years of wisdom in the seed business.
REVIEW
BOOKSTORE & MARKETPLACE
ECO-MEETINGS
We let you know when and where exciting eco-farming events are happening.
EGO-AG U CLASSROOM
Learn Monthly with Acres U.S.A.!
Subscribe to Acres U.S.A. magazine to get monthly articles, interviews and more delivered right to your door. Learn the latest in soil health management techniques, regenerative agriculture and farming both economically and ecologically. Subscribe today!