It's a new month, which means a new issue of Acres U.S.A. magazine! Acres U.S.A. is one of the best kept secrets in farming, with educational articles and in-depth interviews that teach practical, applicable methods.
Our September 2022 issue focuses on the theme of farm to table. It has already arrived in subscriber mailboxes, and is also available for individual purchase at our bookstore in both physical and digital formats.
Check out our September 2022 table of contents – and subscribe here to get Acres U.S.A. magazine delivered to you monthly!
This month's cover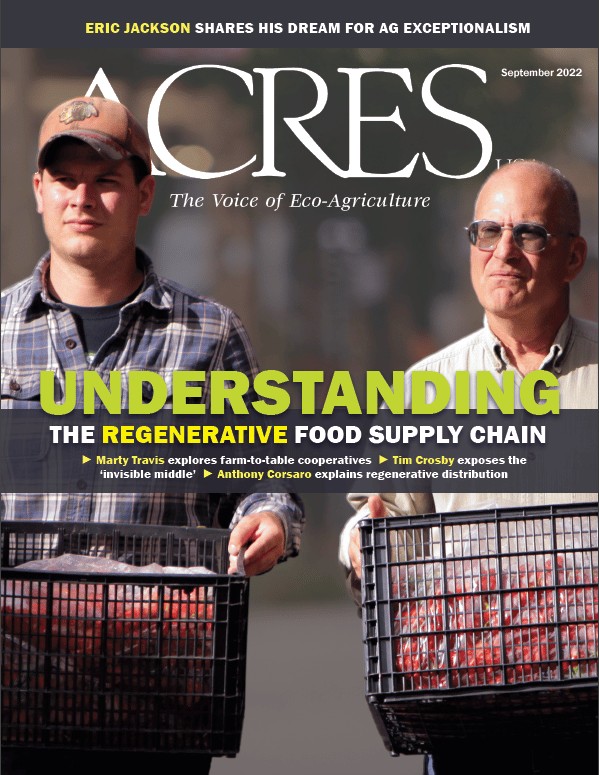 Features
Cooperating to Serve Farmers
BY MARTY TRAVIS
A cooperative model that works.
The Invisible Middle of Agriculture
BY TIM CROSBY
The importance of developing processing and distribution networks to help farmers.
A 12-Step Organic Transition
BY JIM PORTERFIELD
Includes a program page you can tear out and use as a guide.
Introducing Redox
BY HARRIET MELLA
Avoid accidentally triggering crop malnutrition, slow growth, and pests and disease
Combating Parasites
BY KYLE BRISENDINE
A combination of natural methods works in preventing worm issues in sheep.
Don't Stray Away
BY WILL WINTER
What famers need to know about rural stray voltage.
DEPARTMENTS
VIEW FROM THE COUNTRY
Monthly musings from Acres U.S.A.'s editor.
Onward & Upwards!
BY ERIC JACKSON
My dream for a new kind of agricultural exceptionalism in America.
ECO-UPDATE
News in brief on developments in agronomic science.
ORGANIC TRANSITIONING: Practicing Responsible Tillage
BY NICHOLAS PODOLL
INTERVIEW: Anthony Corsaro
Anthony Corsaro discusses what regenerative growers need to know about the middle of the food system.
REVIEW
BOOKSTORE
MARKETPLACE
ECO-MEETINGS
In Memory of Dr. Fitzpatrick
Dr. Judith Fitzpatrick passed away of cancer in July 2022. The researcher, inventor and founder of microBIOMETER wrote her last article for Acres U.S.A. in our previous issue (August 2022). We remember her and acknowledge her work, including the 14 patents to her name.